In his first Wales Six Nations squad named two weeks ago, Wayne Pivac managed to spring a number of surprises on the media and supporters.
Much of the build up to the announcement had focused on what the new head coach would do at centre with Jon Davies ruled out for the entire tournament, Owen Watkin missing the first few weeks and none of the remaining regional midfielders properly putting their hand up.
There was suggestion that Pivac would look to one of his back three corps to fill the gap at outside centre, and it may be the case that George North still is the man that will wear 13 against Italy, but one of two bolters in the squad is also putting his hand up.
Nick Tompkins was originally thought not to be available for Wales, despite a grandparent being born in Wrexham, due to winning two England Saxons caps on a tour of South Africa. However, a loophole in World Rugby's eligibility rules mean that due to South Africa A not being a capture team for the Springboks he is not tied to England.
Instead the 24-year-old has been called up to Wales, having spent his entire career at Saracens where he has taken on the role of a reliable backup to the likes of Brad Barritt, Alex Lozowski and Duncan Taylor.
112 appearances for the English side across all competitions has yielded contributions towards four Gallagher Premiership titles and three Heineken Champions Cup trophies, although some of these may now be tainted by the recent revelations around the breaking of the salary cap.
The majority of his game time has come at inside centre, but Tompkins has plenty of experience wearing 13, and I've had a look at what he could bring to a Wales midfield if he lined up outside Hadleigh Parkes at the Principality Stadium this weekend.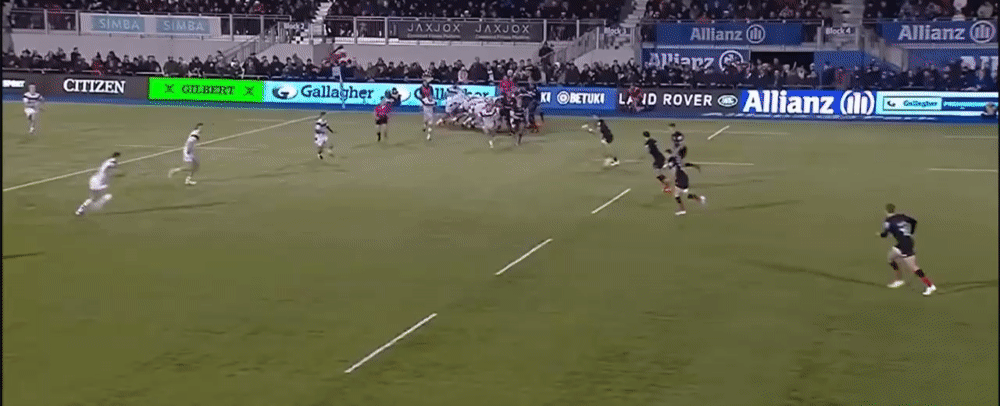 It starts with his eye for the try line, and particularly his turn of pace, which allows him to break and chase down kicks courtesy of being much quicker than a lot of players over the first five-to-ten yards of a sprint.
Looking at the second clip he manages to get between the Sale half-backs, one of whom is known speed merchant Faf de Klerk, and get to the loose ball, then we see evidence in that clip and the third clip of his power, either powering to the line with defenders hanging off him or breaking a tackle and speeding away.
That compact power and pace draws some comparisons to Scott Gibbs, while he complements those physical attributes with a rugby brain that allows him to make correct decisions as well as reading offloads and kicks ahead.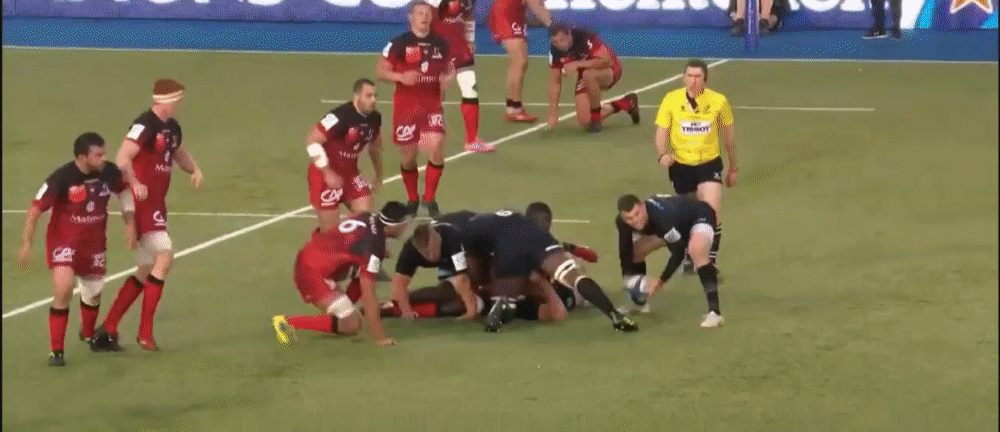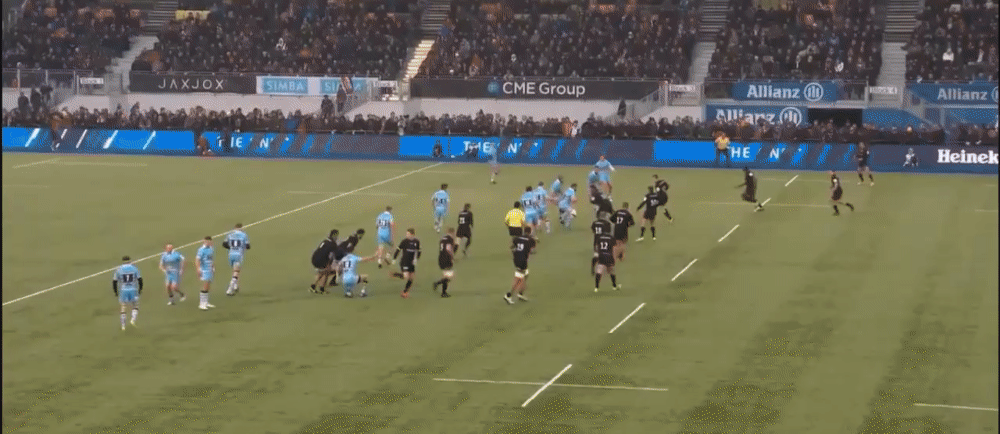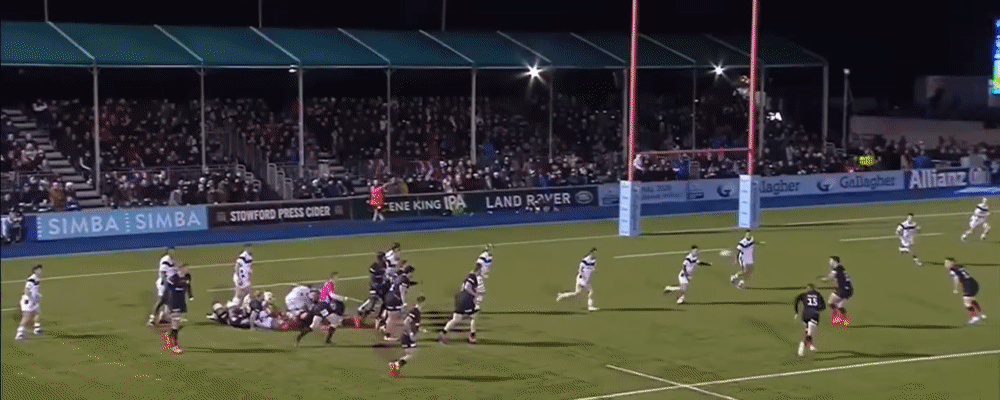 Focusing on the first clip and it's a smart play from Tompkins as, although he is turning down an overlap to the left hand side, he plays the percentages and holds on to possession rather than attempting the risky pass, still managing to battle back to the gain line.
Saracens then move the ball quickly on the next phase and manage to manufacture a line break.
Perhaps his greatest strength though, and an area of the game where Jon Davies is so good too, is his distribution. We're so used to seeing Foxy providing another kicking option in the outside centre channel or producing perfectly weighted passes for the likes of Josh Adams to run on to, and the evidence is that the Saracens man has a similar skillset.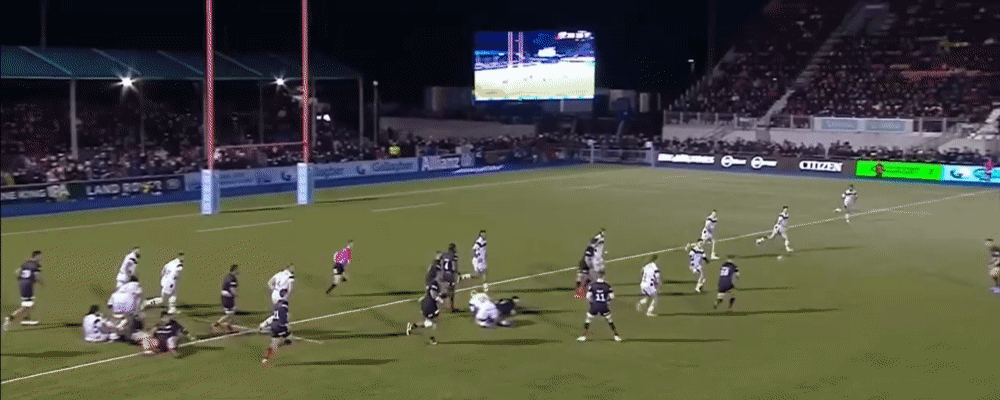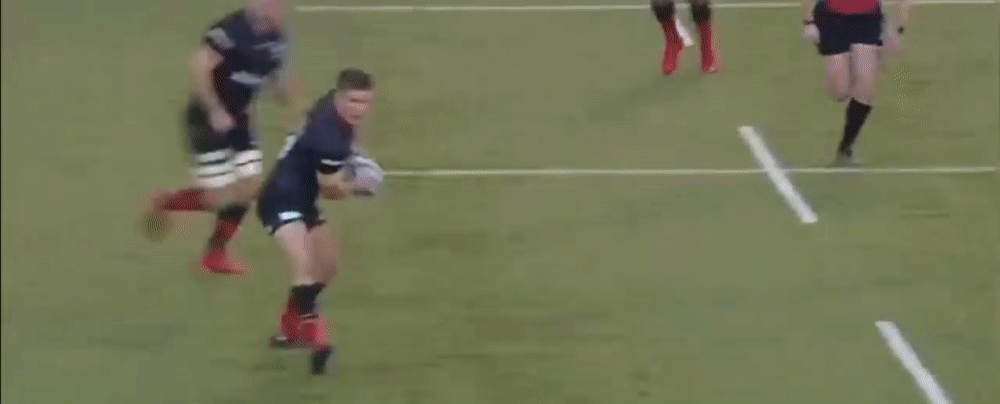 The range of distribution is what stands out, whether he's throwing longer pass to expand the play, drawing and passing on the outside or moving in-field and taking pull-back passes from the forwards before picking the right option outside him, he is a player who can create something around the park.
To have that vision and footballing ability, and be able to execute as Tompkins does makes him a standout international player, especially when he puts that together with his carrying to create tries by himself.

However, while there is no question in my mind that Tompkins is clearly the right man to fill the 13 jersey this weekend in an attacking sense, I do have question marks over his defence.
Saracens' defensive system is different to that of Wales', and even though Byron Hayward has taken over from Shaun Edwards there is an expectation that the basic principles will remain the same when it comes to a relentless blitz putting pressure on the opposition.
Tompkins' club side don't ask that of their outside centre, allowing the inside of their defensive line to push up quickly, with the edge usually a yard behind them to create a backwards dogleg, a safety blanket that means if a team does get to Saracens' edge then the outside defensive line can drift easily and prevent a line break.
With Jon Davies being the best defensive outside centre in the world, Tompkins would have an important role to fill, but there are examples of him being caught when spot blitzing poorly, not bringing the line up quick enough and allowing the opposition to play across him, and getting caught too narrow.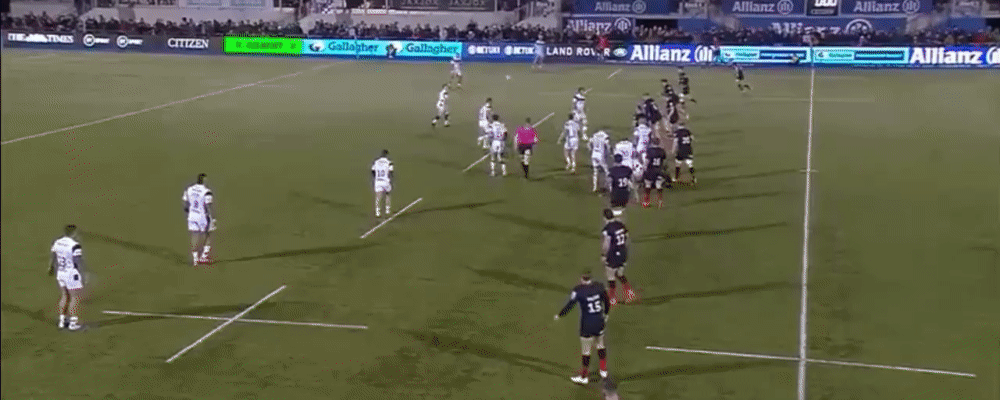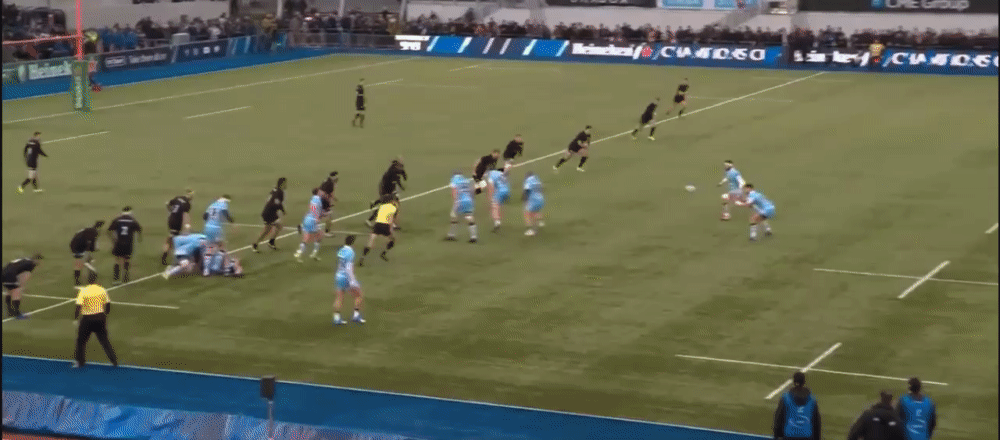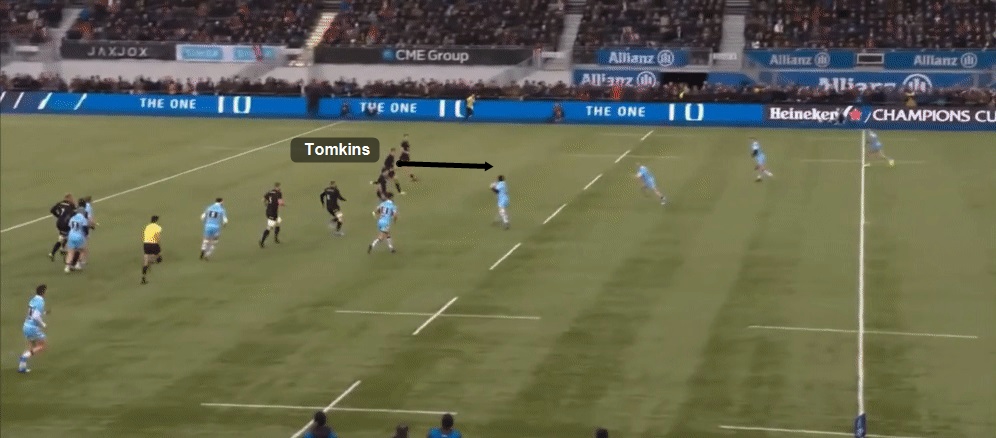 If Tompkins assumes the red 13 jersey he will have to grow into that role as the defensive focal point, leading the blitz from the outside to create the opposite dogleg than he is used to at Saracens.
It keeps the opposition narrow and gives opportunity for more turnovers which is likely to be the noticeable change under Hayward, while he will be perfectly capable of covering out wide if the opposition do go for the miracle pass, and might even get on the end of an interception or two.
Although there are examples of potential defensive frailties, there are equally moments of encouragement that Tompkins does have the attributes to defend as Wales want, but he just does not get the chance to show them off with Saracens.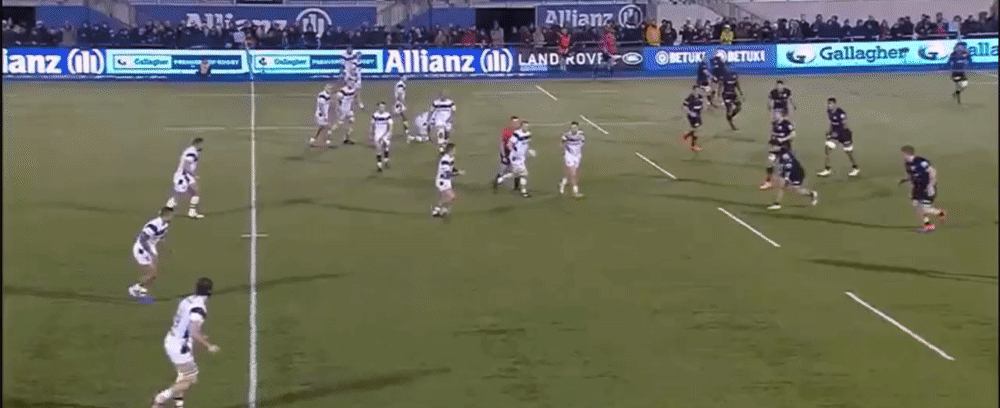 Particularly the first two clips which see him bring the defensive line up quickly and keep Bristol narrow before stepping up and putting a strong tackle in, dropping the ball carrier behind the gain line, are exactly what you'd expect to see from Wales' outside centre.
Add in some strength in his tackling as he drives the ball carrier back in the third clip and cannot be beaten on the outside in the final clip, and it gives an impression of a player who just needs a run of games at outside centre to show what he can do.
Starting with George North in the 13 jersey would be a mistake in my opinion. We know he has great running ability and that he's a physical player, but we also know that he is limited when it comes to distribution and his defensive reading of the game.
Nick Tompkins is different. He shares some attributes with Jon Davies but has enough individuality to stamp his own mark on a position that will be so important to a more expansive game plan under Wayne Pivac.
Hopefully we will see the new head coach begin his reign in charge of Wales as he means to go on; by being bold.