Saturday night saw one of the best attacking performances from a Cardiff Blues side for some time, as we scored eight tries and 50 points for the first time in two-and-a-half years.
After a somewhat slow start to the season with ball-in-hand, during which we only scored four tries in a match on two occasions in the first nine games, neither of which came at home, it was a welcome sight to see John Mulvihill's men playing the flowing rugby we know they are capable of.
Richie Rees has come in for some criticism early in the campaign, from me included, with questions being asked about whether he was the right choice to succeed Jason Strange as attack coach over the summer, but the processes shown on Saturday night were classic Cardiff Blues attacking shapes.
A lot has been made about the re-introduction of Tomos Williams at scrum-half and how that improved us going forward, but while there's no doubt a world class nine added to our play, there was plenty of other good things about our attack at the Arms Park.
It starts with the forwards, where a return to a structured 1-3-3-1 formation moves us away from a sort-of hybrid 1-1-2-2-1-1 formation, but enhances the quality of the carrying game that pushes the gain line but most importantly secures good quality and quick ball.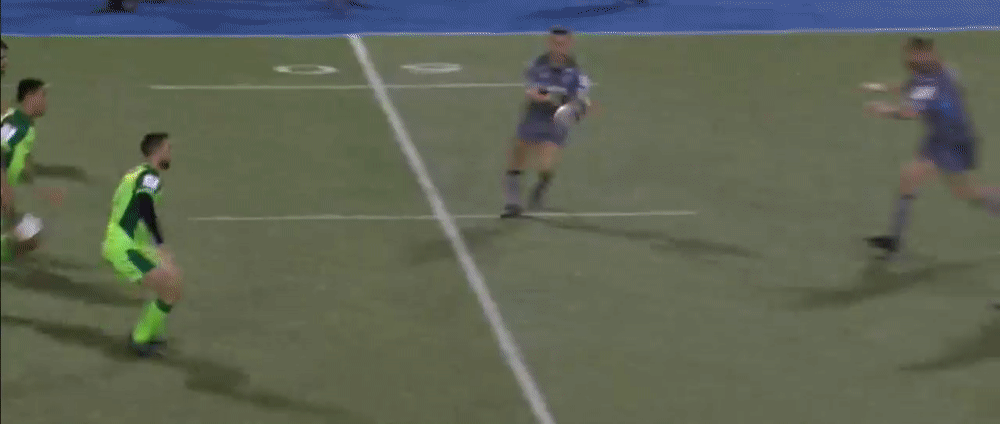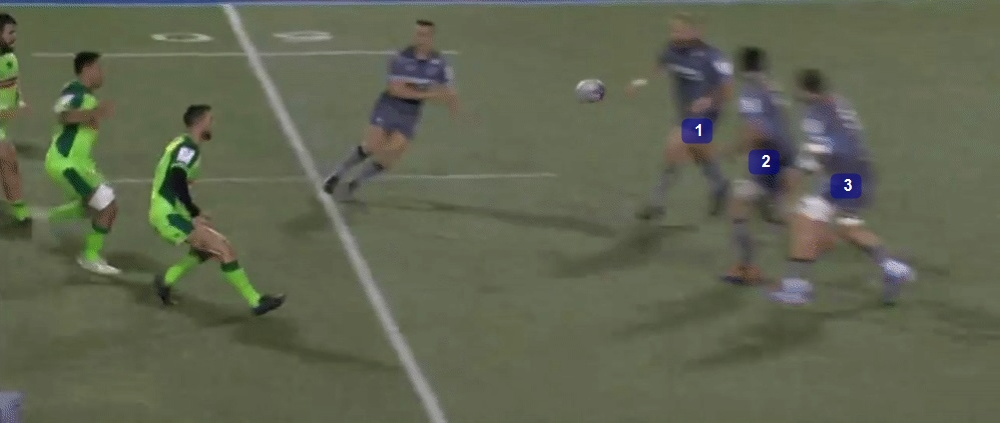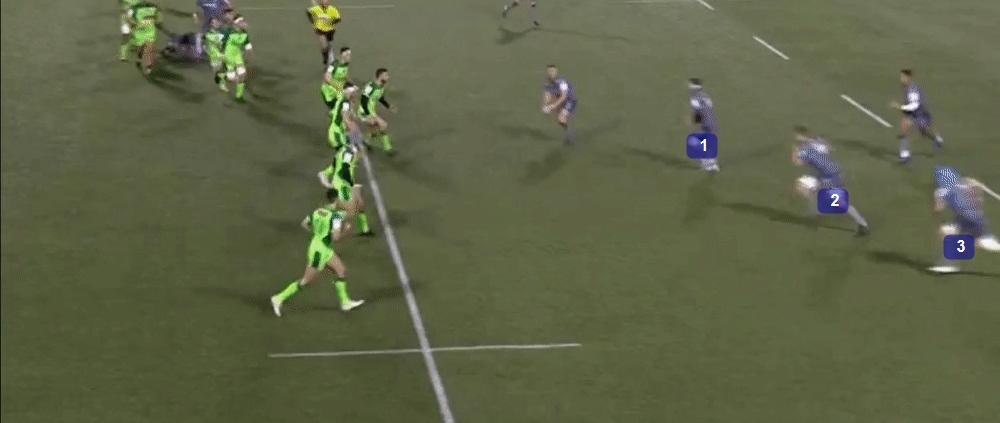 More than just returning structure to the forward play, we largely brought them short off Jarrod Evans at fly-half rather than playing off the scrum-half. This works for three reasons;
Firstly, the carrying pod can hit Jarrod's shoulder at pace, and as he goes flat to the line the speed at which they come on to the ball means that the likelihood of them going to ground behind the gain line is slim-to-none.
Secondly, the three of them hitting the line as a pod prevent the defence from properly committing two men to any tackle as Jarrod has the option of picking any one of the carriers out and, as we know, he's not afraid of throwing a delayed pass.
Finally, as the next clip and images show, playing off 10 gives us the flexibility to use the carrying pods as decoys should the option be on to play out the back.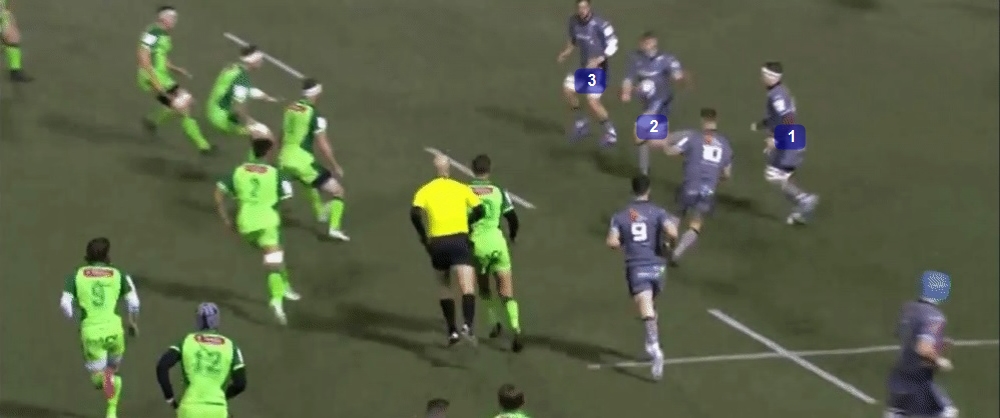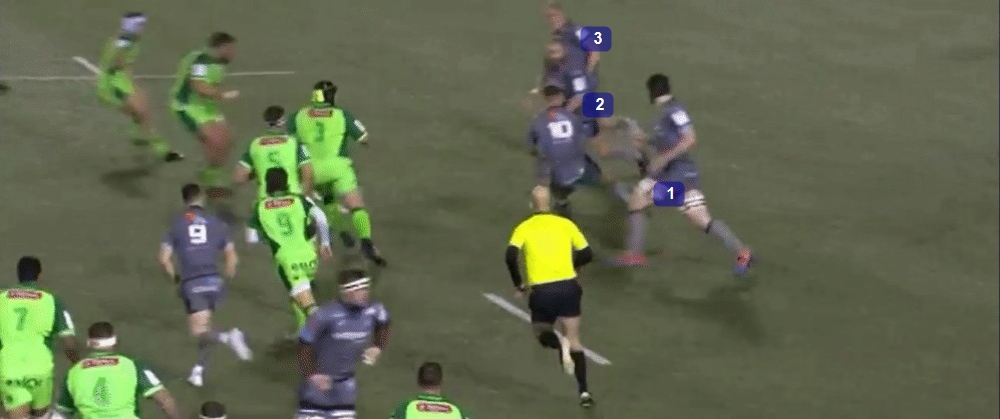 With the Pau defenders biting inside to deal with the carrying pod, Jarrod Evans pulls the pass back and Ben Thomas has space to move into out wide, in the end shifting the ball on to Kirby Myhill to make yards down the right.
Of course Myhill being out on the wing is another aspect of that 1-3-3-1 structure, and while it does allow a more mobile forward to carry in the wide channels, and offer a more physical presence allowing the backs to stay in open play, it's big positive is when used as a dummy runner to create more space for the backs.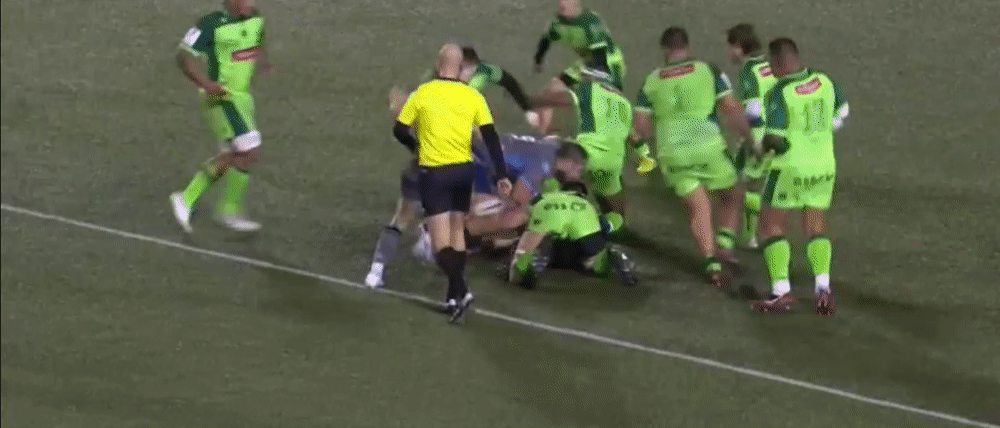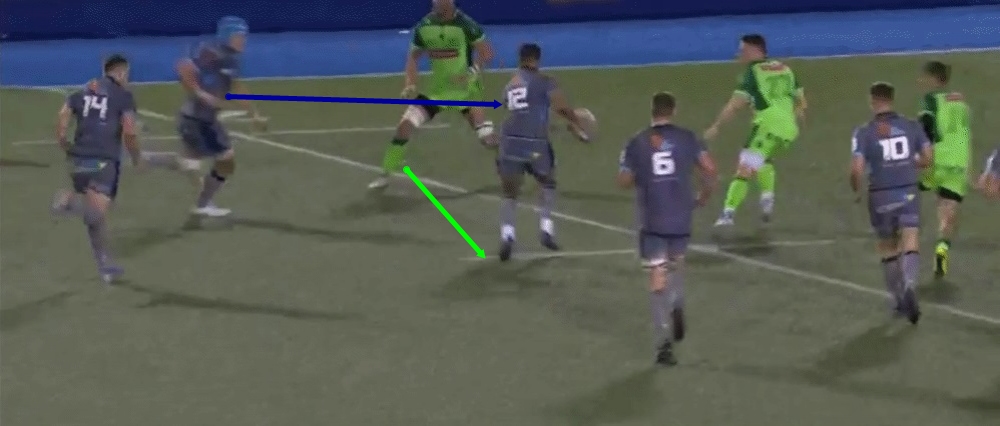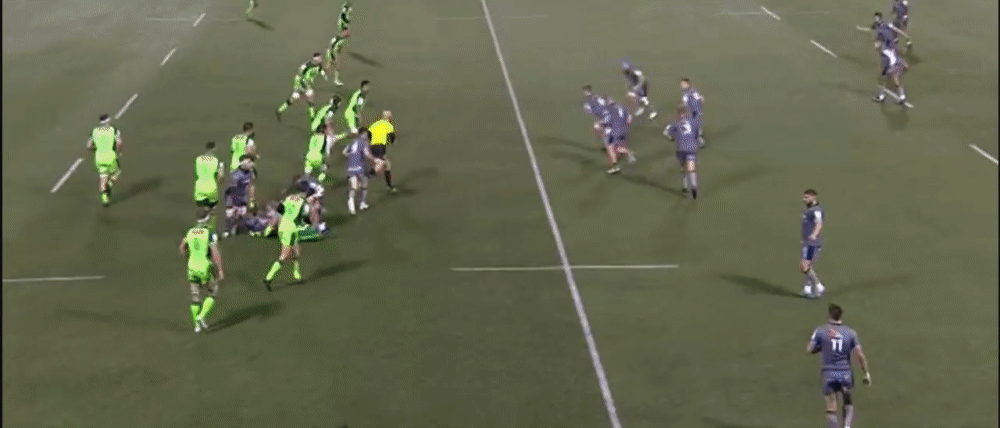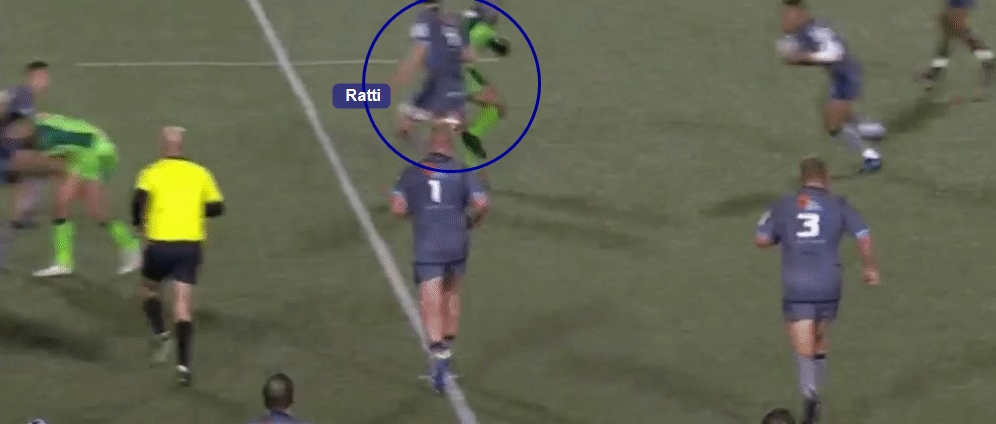 With Olly Robinson and James Ratti fixing a defender with their out-to-in lines, it allows Rey Lee-Lo in the first clip and Ben Thomas in the second clip to push into the into the space created out wide and make good ground.
That whole 1-3-3-1 structure is the basis upon which Cardiff Blues can play from, with elements such as the out-to-in lines then worked around that to create the attack as a whole, with the main principle being 'ask questions of the opposition'.
Too often early in the season, as I have previously looked at, we were caught playing far too laterally in defence. This allowed the opposition to either blitz and put us under immediate pressure, or drift and just allow us to play touchline-to-touchline.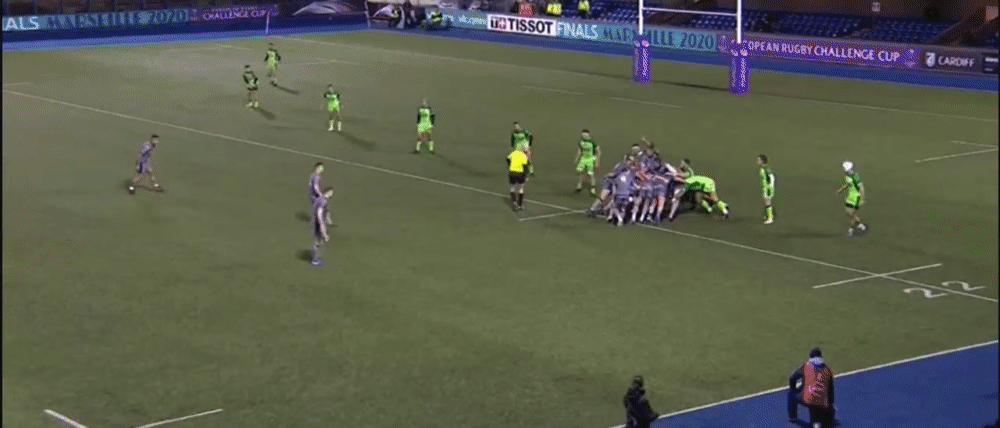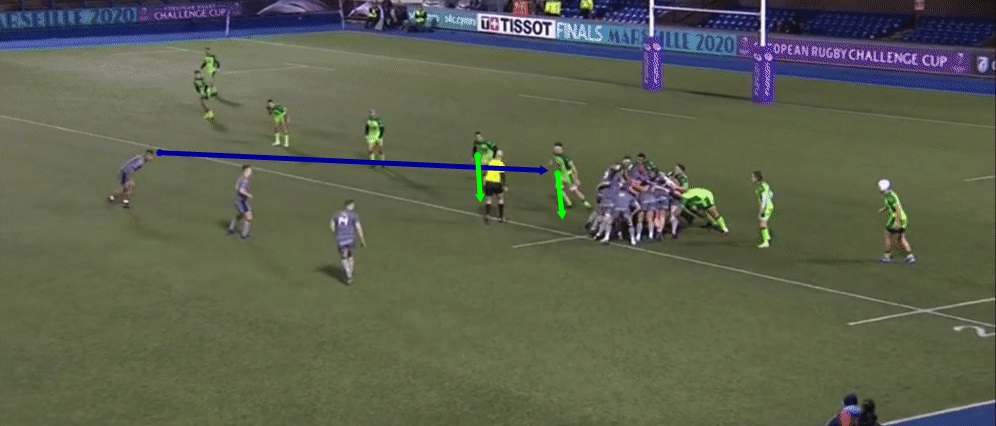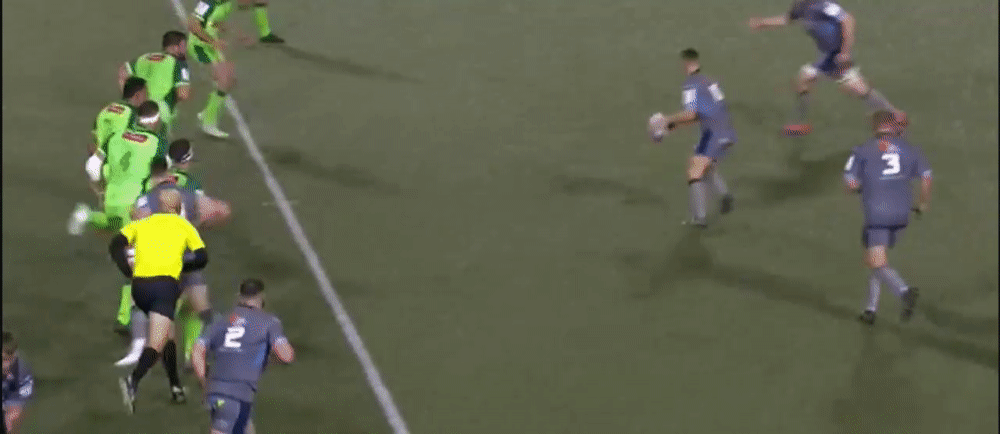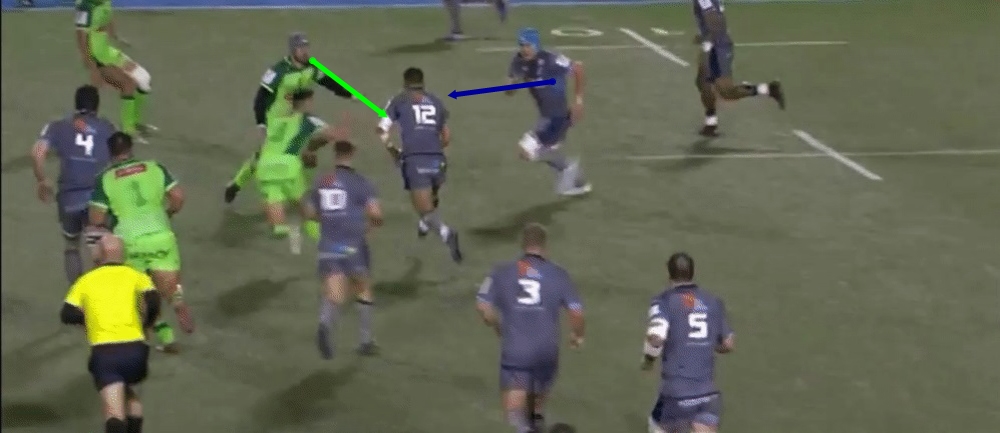 These sort of angles are exactly what Cardiff Blues should be running in our attack, and they worked to great effect on Saturday night.
You can see in both clips the way that first Rey Lee-Lo and then particularly Olly Robinson come from the blindside of defenders stuck in no man's land with their feet planted and their shoulders facing in-field. The angles being run are completely outside of their peripheral vision, and led to a half-break and a line break.
They also straighten up the attack, offering that straight line running threat that has been almost completely lacking to date, but comes up trumps when used as a carrying option, and as we saw earlier, as a dummy option.
Finally, and this links to the second clip above, the 10/12 axis between Jarrod Evans and Ben Thomas worked brilliantly. In that instance it is Ben Thomas in the slightly wider channel taking the ball to the line and bringing Robinson off his shoulder.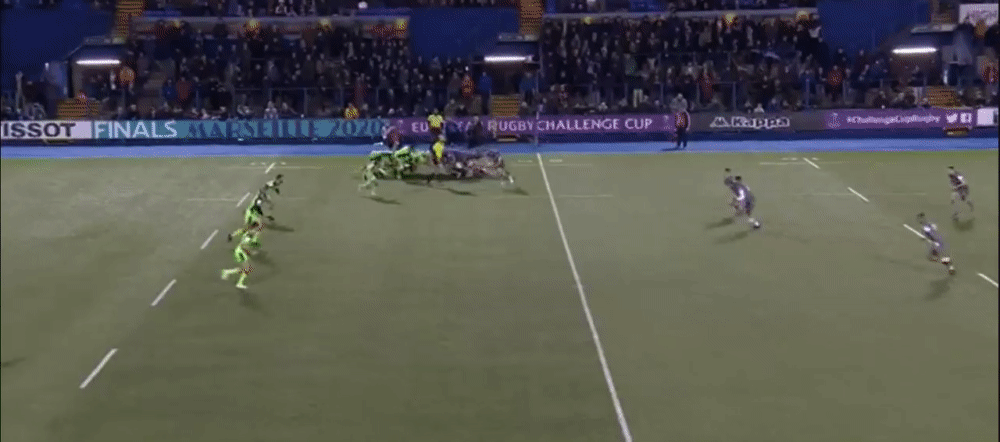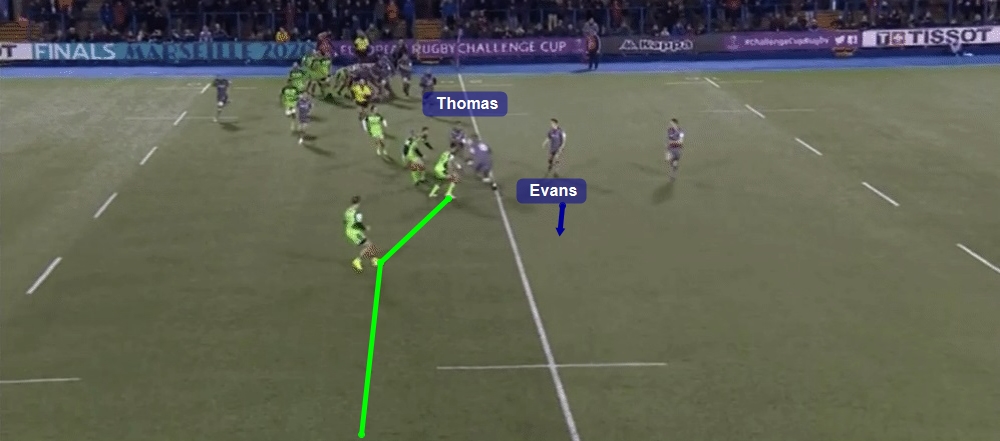 In the lead up to the Matthew Morgan's try though, Thomas goes in at first receiver. With Rey Lee-Lo coming out-to-in it holds three defenders just long enough for Jarrod to slide wide and bring Owen Lane into the game as he comes off his blindside wing.
So while Tomos Williams no doubt had a huge impact on how we played with a quality performance at scrum-half, there was a structure and shape to our attacking game that allowed us to play to our strengths and we finally clicked going forward.
There's plenty still to work on, with a question mark over our carrying game should the opposition have been more inclined to work over the ball at the breakdown, and how the attack as a whole would deal with a defence that brought more line speed.
However, Saturday was an indicator of what we can do, and if that's anything to go by then there's no reason we can't continue to pick up wins as we bid to save our season during the festive period.