As pre-World Cup test matches go, losing away to your biggest rivals to bring a 14-match winning streak to an end and seeing the starting fly-half limp off with a knee injury ruling him out of the tournament is not ideal.
However, while in some quarters there was meltdown about the amount of 'warm-up' matches, and the quality of the opposition, as well as our World Cup chances being written off completely, in reality there was little to panic about outside of Gareth Anscombe's injury, which unfortunately is something that comes as part of the sport.
Performance-wise England were certainly better on the day, with a powerful showing up front earning them dominance in the opening and final quarters of the game. There was also an element of them working harder than us, knowing that places were available in Eddie Jones' 31-man squad to be named the following day.
However, for Wales it's not something to worry about at all yet. There are still five weeks until the tournament starts and three games to improve, with only some minor tactical tweaks that will come with time spent specifically preparing for test matches, rather than mixing rugby work with fitness work during training camps.
One of those tweaks, which is something that will come as the match speed returns, is the defensive organisation and speed, which was sadly lacking at key points during Sunday's game, specifically the opening 20 minutes when England almost ran riot.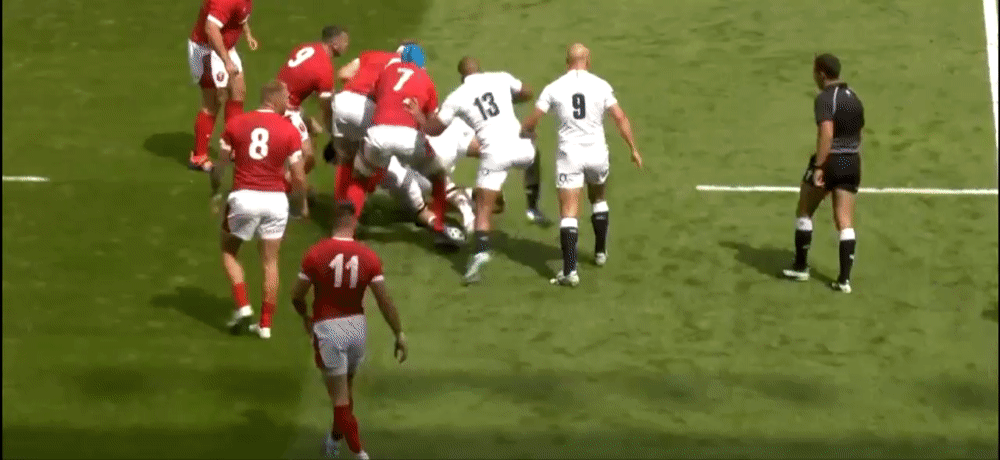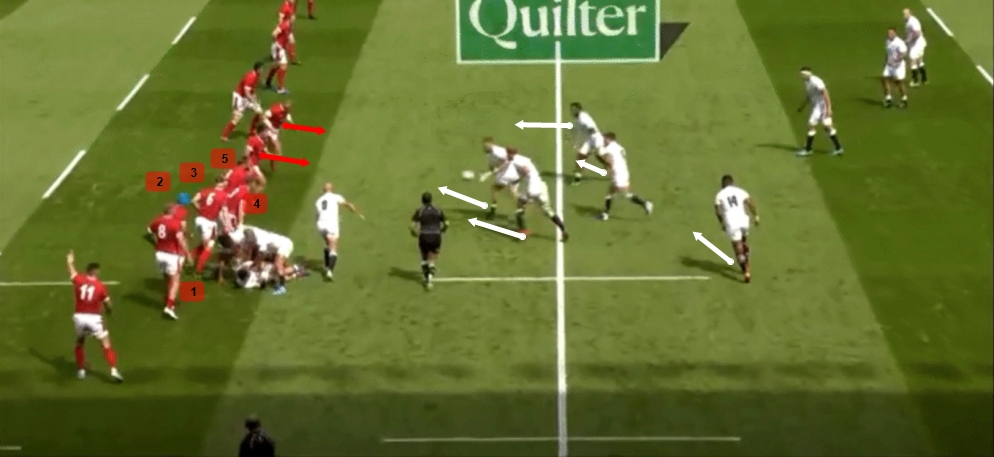 In the first few minutes of the game Wales got trapped with five players in and around the breakdown and it's fringes, with two on the blindside, despite England calling a move that saw the blindside winger pulled across onto the shoulder of the ball carrier.
With the outside backs holding their width in defence, as is expected from the Shaun Edwards system, it leaves the area just outside the ruck guards hopelessly exposed, with realistically two Wales defenders facing up to four obvious English carriers and the winger lurking just behind.
Normally Wales would be set early with three or four defenders in that area ready to blitz hard and put the attack under pressure, instead the two defenders have to hold themselves in the line and accept that they'll give up metres, with the other option being to blitz anyway but potentially leave a huge gap in the defensive line.
Getting caught with a sparsely populated defensive line just outside the guard area was something which hurt Wales to a greater extent when England move the ball wider than the forward carrying pod.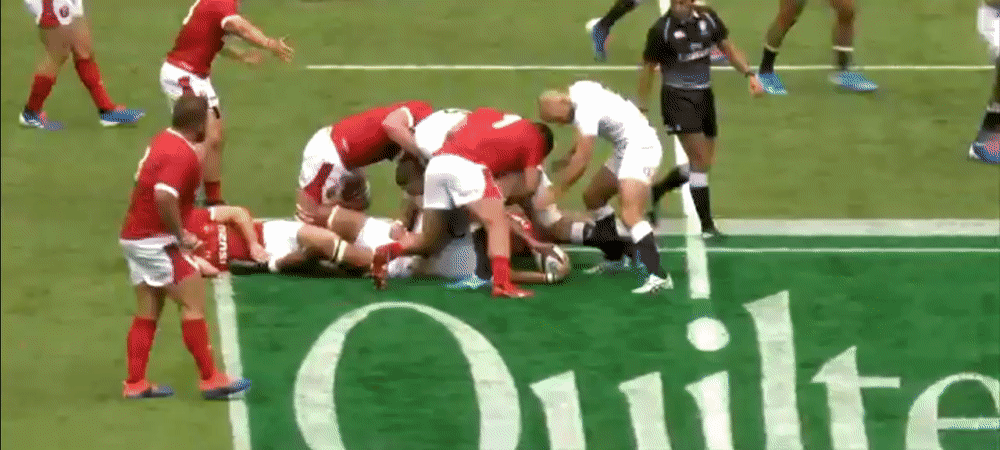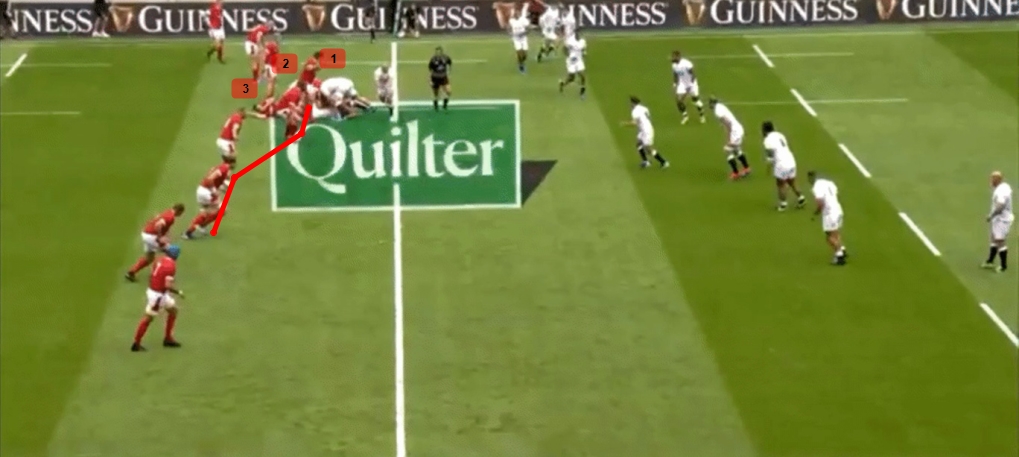 It wasn't always the case that defenders were too slow in getting around from the breakdown fringes and into the line, more often than not it was actually that Wales were over-committing to the breakdown, either in the form of a jackal or a counter-rucker.
The knock on effect was the same though, with the defensive line not set, as Wales operate very much with an in-to-out feel in that guard/bodyguard area, relying on the first man to be the organiser and leader of the blitz.
As a result of the lack of organisation that blitz couldn't get off the line, and big gaps were left either side of forwards very much with flat feet, knowing that shooting up in what would effectively be a spot blitz would leave gaping chasms in the defence.
Even holding the line wasn't successful in all cases though, as England bring the blindside winger into play off the fly-half, and Wales' poor defensive organisation leaves a difficult one-on-one tackle to be made that is broken for a clean break.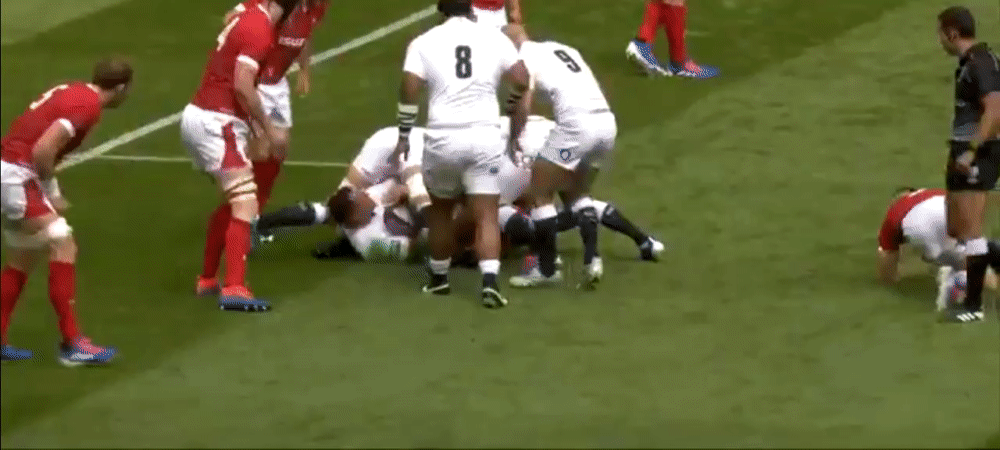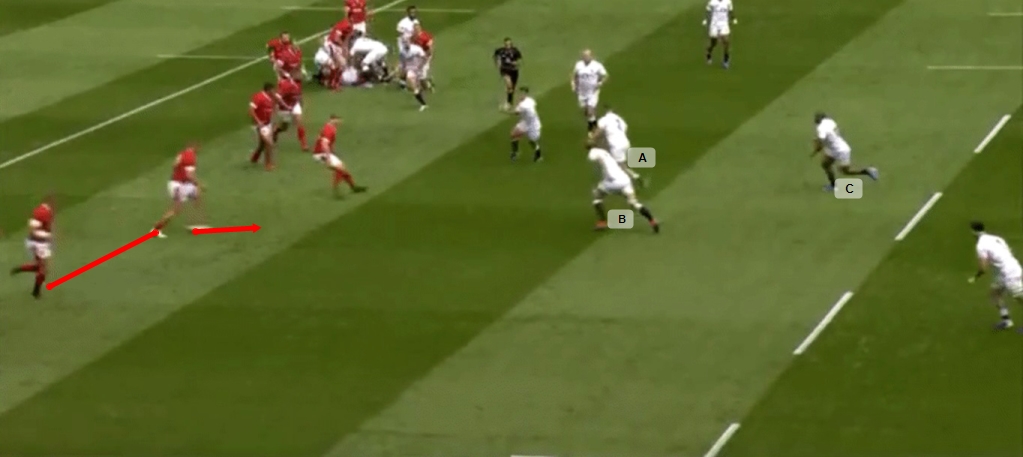 Even less successful was actually going for the blitz though, with England slicing through Wales like a hot knife through butter to push through into our 22, and go on to eventually score the opening try of the game.
It's difficult to blame Aaron Wainwright here, his blitz is likely partially due to the system coached by Shaun Edwards, but mainly due to the recognition that Wales' defensive line is poorly staffed and England are in a very good attacking shape.
Again we've over-committed at the breakdown, therefore the defensive organisation is subsequently lacking, and with Wainwright flying up Ross Moriarty has to bite in on option B, whereas with an extra man in the line he'd be able to join his blitz and meet option C.
As a result option C is free to cut between Moriarty and a Hadleigh Parkes concerned with an English overlap, and the home side are back in our 22 for another dangerous attack.
This is precisely what 'warm-up' games are for though.
Yes they're partially about selection, but Warren Gatland will have known most of his 31-man squad, injury depending, before the game even kicked off on Sunday.
What they're mostly about is developing that match sharpness, ironing out little chinks in the armour and switching that international test match mindset back on.
Rome wasn't built in a day, the World Cup won't be won in a warm up.